Main content starts here, tab to start navigating
Testimonials
What Our Clients Are Saying
Sam and I just wanted to send a big THANK YOU for our wedding cake on Saturday. It was the most beautiful cake we have ever seen. All of our guests enjoyed it very much. And the guinness groom's cake.. WOW. It was a huge hit. You exceeded our expectations and did such an amazing job. Thank you from the bottom of our hears.

- Nicole & Sam
Thank you for your superb attention to detail and all the time and work you spent on my wedding cake. It was beautiful and tasted delicious! I'm still dreaming about it :) So many people complimented the ribbon & design on the cake. Words cannot express our appreciation of the out-of-this-world sweet table. A work of art! Thank you for everything - a memorable cake and the most scrumptious sweet table ever!
- Love, Laura & Joe
To the Staff at Oak Mill Bakery, We ordered a cake for our daughter's First Communion. I wanted to let you know that the cake was absolutely beautiful, and delicious! Thank you for providing such quality. Also, thank you for delivering the cake, which I requested at the last minute, and squeezing us into your busy schedule.
- Sincerely, Gloria
Oak Mill Bakery, Thank you for the amazing sweet table. It was a wonderful presentation and everything was perfect. I have great pictures and am still enjoying what I brought home. Thanks again!
- Cindy, Cafe La Cave
Dear Bogna, Thanks again for creating yet another wonderful cake to celebrate another special occasion. Two years ago, Oak Mill did a fantastic job with my bridal shower & wedding cake. This time around, you did it again. My guests and I were able to enjoy a delicious cake at my baby shower. I'm looking forward to having your bakery create a cake for our baby's Christening. Thanks again!
- Jenny & George
Thank you so much for such a beautiful wedding cake! It was better than we hoped. We and our guests enjoyed it very much. Thanks again!
- Suzanne & Michael
I just wanted to thank you again for our gorgeous wedding cake! It was exactly what we wanted (which was a challenge, since even we weren't 100% sure of what we wanted at first!). The cake matched the look and fell of our wedding perfectly. And, of course, it tasted great, too! Your team was amazing to work with - we could not have asked for a better experience.
- Jessica & Mirko
My bride and her family were very impressed with the gluten-free cupcakes! They said they were the best they have ever had and to let you know you and your staff did a great job! Thank you for making my bride and groom so happy!
- Lena, Catering Manager
Hotel Baker
Alexandra & Oak Mill Bakery - Thank you once again for the generous donation of a 3-D drum cake to help enhance Sergio's wish day and to celebrate his upcoming 17th birthday! We truly appreciate it. Thanks to the generosity and support of people like you, we are able to further our mission by stretching resources over more wishes. For that, we are grateful. Thanks again for helping us make Sergio's wish come true!
- Dana, Make-A-Wish Foundation
Joanna: I just wanted to formally thank you and Oak Mill Bakery for making me the coolest and most DELICIOUS cake for my wedding! Everyone loved it and people are still giving me comments about how interesting it was. I heard people were going around and taking pieces of cake that other people weren't eating!!! It was such a pleasure working with you. Thank you for making everything so easy and you were so accommodating. I will definitely recommend you and the bakery to anyone I know looking for a cake or anything related to bakery goods!
- Joanie
I would like to thank your Arlington Heights store for the beautiful cake that they made for my daughter-in-law's baby shower. They made several suggestions to enhance the cake and decorations. Everyone loved the cake and said it was the most beautiful cake they have seen.
- Linda
Dear Joanna & Oak Mill Bakery - The cake was absolutely gorgeous and the guests raved about how wonderful it tasted! It was really incredible! We took lots of pictures. I really wish we'd had a refrigerator for the leftovers, it was that good! Thank you so much!
- The Orricks
Oak Mill Bakery, I wanted to thank you for helping make my friend's baby shower in Chicago just stunning! Since I live out-of-state, I was a little leery about working with a Bakery remotely but your staff is absolutely phenomenal! You have great customer service, follow-up and very talented cake designers. All the guests at the baby shower raved about how amazing the monkey cake looked and tasted. We also had cake pops and the assorted mousse with fruit cups and they were just delicious too! I can't thank you enough.
- Sincerely, Melissa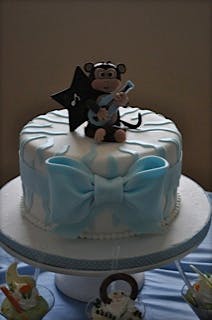 I just wanted to send you a pic of the gorgeous cake you guys made! It looked stunning! Definitely "Pinterest" worthy ;-) We couldn't have been happier! So thank you, thank you, thank you!
- Kasia & Russ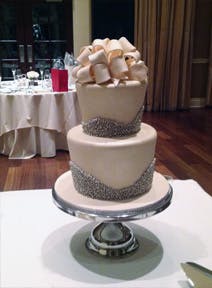 Dear Alexandra: Thank you for your generous in-kind donation to Music Matters 2011, the Ravinia Associates' 19th annual fundraising event. With your generosity, the Associates were able to raise over $214,000 for Ravinia and its REACH*TEACH*PLAY education programs. These programs strive to extend Ravinia's REACH throughout Chicagoland, TEACH the foundations of music to children and adults, and encourage students to PLAY and experience live music.
- Music Matters Auction Co-chairs
Bogna, On behalf of St. Emily Parish, I want to thank you for the awesome cake replica of the church and the additional cakes you donated for our 50th Jubilee celebration. I can't tell you how impressed people were with the "church" cake. May God bless you and your family for your generosity to St. Emily Parish.
- Maria, St. Emily Parish